10 lb. Hawaii Kona Extra Fancy Green Unroasted
10 x 1 lb. *Green* Extra Fancy  Hawaiian Kona Coffee Beans.  ***These beans are unroasted for home roasters.***
This is a special promotional auction for our finest Kona Beans even below are already low Factory Direct Pricing.

Hawaiian Kona
This coffee is truly exotic in nature and price. If it were a car, it would be a Ferrari, if it was an outfit it would be Channel. Smooth as silk and very mellow in taste. No after taste, it rolls over your tongue like warm butter.

Ultra Premium Quality
Cupped by Masters
Superior Roasting Quality






Weight: 
10lb.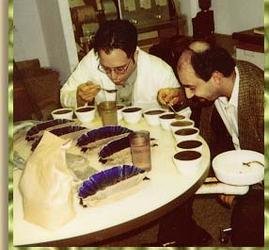 Reviews