6lb / 2 of each Jamaica Blue Mountain, Hawaii Kona, Yauco Selecto GREEN
2 lb. Grade 1
Jamaican Blue Mountain

coffee plus 2 lb. Extra Fancy Grade

Hawaiian Kona

Coffee Beans plus 2 lbs of

Yauco Selecto

AA. 6 lbs. in total of GREEN UNROASTED Coffee Beans.

This is a special promotional auction even below are already low Factory Direct Pricing.




Jamaican Blue Mountain

The worlds most expensive coffee due to the rare availability and complete flavor. Grown in a small region with rich soil, cool misty evenings and altitudes of up to 7400 feet gives this the rarest of coffees a subtle sweetness combined with an elegant structured body that dances over your tongue. 

 Hawaiian Kona Coffee

This coffee is truly exotic in nature and price. If it were a car, it would be a Ferrari, if it was an outfit it would be Channel. Smooth as silk and very mellow in taste. No after taste, it roles over your tongue like warm butter.

Yauco Selecto AA

This special and rare coffee of Puerto Rico is considered one of the finest coffees of the world and offers a full-bodied experience with an arresting after taste.  This true estate coffee is worth it's high price per pound and is noted on Forbe's top 10 list for most expensive coffees of the world.  It has a chocolaty aroma, buttery and sweet with a solid power punch.
Ultra Premium Quality
Cupped by Masters
Superior Roasting Quality






Weight:
6
lb.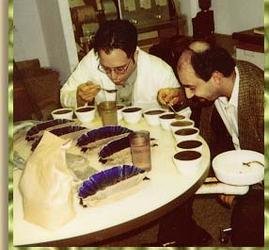 Reviews