KENYA KAGUYU AA Grand Reserve Green Unroasted
Part of our *LIMITED SUPPLY* *SECRET MENU* for the most discerning coffee pallets.

This is one of the coffees that our founder personally procured, roasts and enjoys. Truly one of the worlds best tasting coffees.

"Grand Reserve" is the best of the AA crop from this small Exclusive Kenyan Estate located in Kirinyaga District in the southern part of famous Mt. Kenya at a elevation of 7200 feet with red volcanic soils that are rich in organic matter.
Kenya AA is already known as one of the world's Ultra Premium Single Origin Coffees but this one is even more elite being a "Grand Reserve"
Kenyan coffee is the only coffee in the world with strong flavor that is distinctively bold with a high smooth acidity that gives it a wonderful mellow after taste.
The flavours of dried fruits up front give way to a bittersweet chocolate finish.
Ultra Premium Quality
Cupped by Masters
Fine Roasting
Weight:
1lb (16oz) Fresh Pack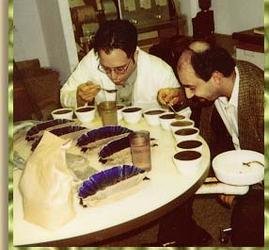 Reviews